This last week my brother, his fiancée, and my cousin came to visit from Utah, which would be the reason why I haven't posted in a week. Things this week have been gooood so I'm name some things I'm love
I'm loving Yoga with Bob Harper I love Biggest Loser it's one of my favorite shows ever. I especially love workout DVD's from the trainers. This was my first time trying yoga and it was awesome! I'm hooked!
I'm loving my super shiny ring. I went to the mall with Dustin and Ashley to look and rings and the people at the Jewlery store offered to clean my ring! Please ignore my gross hands. It doesn't help that its enlarged.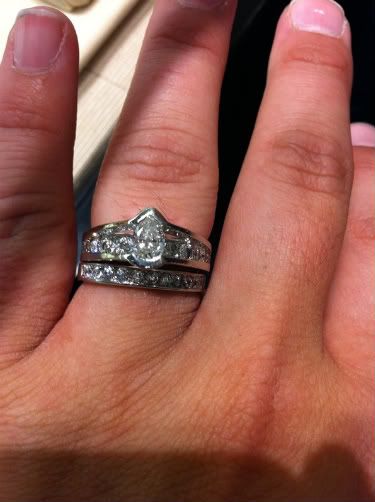 I'm loving that I'm getting tan again, not loving that my chest is fried, and just my chest.
I'm loving that school is almost over! I'm starting to loose focus this far into it haha
I'm loving my brothers choice of wife haha. He picked a good one! Love her! Love them

I'm loving tonights episode of The Office. I definitely cried when they started singing. I'm not ready for Steve Carell to leave booo!
I'm loving that me and my cousin Chelsea are talking about going abroad in May! Just haven't figured out the country yet!
I'm SUPER loving that Taxes are mostly done, besides extension people. I've talked to Alex so much more just this week then the last lot of weeks because he has been so busy with taxes. And I'm loving what we've been talking about. Getting plans figured out for leave and talking about when he's done with Korea!
I'm loving that he's done with Korea in SIX MONTHS!
And lastly, I'm loving that in just 2 months Alex goes on leave!!